Legal Affairs and Compliance
Legal Affairs and Compliance
Overview
With an ever-changing legal landscape, RILA's Legal Affairs and Compliance offerings are committed to providing members a forum to network, share best practices and take action on the most pressing legal issues of the day. RILA's councils, committees and working groups are positioned to lead the retail industry, with an eye on both state and federal regulations.
Why Legal Affairs and Compliance Matters to Retail
From environmental compliance and product safety to employment law and privacy, the legal departments of leading retailers face daily challenges that impact virtually every facet of retail operations.
Our Priorities
RILA's product safety vision is to focus on federal regulations and product safety issues impacting the retail sector, working with the U.S. Consumer Product Safety Commission, the Environmental Protection Agency, U.S. Customs & Border Protection, and other entities to address issues impacting leading retailers.

RILA's Compliance Council serves as a voice and a forum for retail industry compliance officers to meet and exchange ideas about corporate compliance issues in a retail environment. The world of retail presents unique challenges for our membership and the Compliance Council seeks to help our members meet these challenges.

The Retail Compliance Center is a one-stop shop for leading retailers and stakeholders in the industry to access solutions and information for maintaining compliance with state and federal environmental regulations. The RCC provides a repository of useful retail-specific information, tools and solutions.
Retail Ethics And Compliance Program Survey Report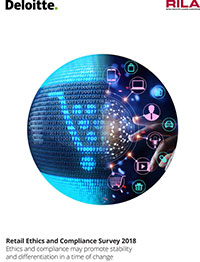 For a free copy of "Retail Ethics and Compliance Program Survey Report " please complete the form below.
A Deeper Look into Legal Affairs & Compliance
Legal Affairs and Compliance Committees
RILA provides a network to share best practices and act on the most pressing legal issues of the day. Our programs help leading retailers collaborate and tackle legal and corporate compliance issues specific to retail.
View All Committees
Upcoming Meetings
Jan 27 - Jan 28, 2021
Virtual
The Retail CEO Forum is the once-yearly, invitation-only event for CEOs from the most recognized retail brands in the industry.
Go to Event
Strategic Initiatives that support performance, compliance and transform the industry
COVID-19 Resources for Retailers