Sustainable Packaging: LDPE Film
RILA and Chainalytics have developed this resource on Sustainable Packaging Strategies and Considerations: LDPE Film to aid retailers' sustainable packaging efforts. We chose to focus on LDPE film because it is one of the more commonly used packaging materials across retail sectors. LDPE film polybags and wrapping have nearly ubiquitously protected products for years. In the supply chain, LDPE shrink wrap has served to keep products secure and clean for efficient shipment. In e-commerce applications, LDPE polybag mailers are frequently used as a rightsized and lightweight shipping option. However, recycling options for LDPE film and packaging are not always readily available or intuitive, particularly for consumers.

As with many sustainability decisions, company needs, regulatory trends, environmental program priorities, and strategy tradeoffs are all part of exploring sustainable packaging considerations for LDPE film. This resource highlights trends; sustainable packaging strategy options including elimination, reduction, alternative material use, and increased LDPE film recycling; and leading practices. It also notes key considerations for retailers to think through when considering options and moving forward with implementation. Because of their common use throughout many retailers' primary, secondary and tertiary packaging, polybags are used throughout this resource as a use case to explore the various options for scalable LDPE film sustainable solutions and considerations discussed.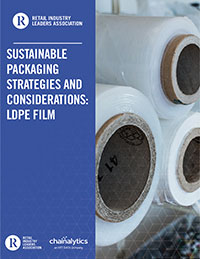 For a free copy of the report, please complete the form below.
Tags
Sustainability/Transportation Report