Consumer Bag Legislation Summary Matrix
Updated: July 2023
Consumer Bag Legislation Summary Matrix
This matrix provides an overview of consumer bag legislation across the United States by state and/or municipality for paper and plastic bags. This includes information on jurisdictions with a "ban on bag bans" that prevents bag-related restrictions. This overview does not include information on proposed legislation or ordinances. Sign up for RCC Crossroads for updates on bag bans.

Note that California state regulations grandfathered in counties, cities and municipalities that had enacted local laws prior to September 1, 2014. This includes county-wide ordinances that apply to all towns within the county. To avoid redundancy, cities and municipalities within these counties (Alameda County, Napa County, San Mateo County, and Sonoma County) are not listed.
Note that Washington State regulations allows local jurisdictions to keep ten cent carry-through fees that were enacted prior to April 1, 2020. Beginning January 1, 2026, all retailers must enact a fee of twelve cents for reusable carryout bags and eight cents for recyclable paper bags.
The overview provided in this table is for informational purposes only. Because of the summary nature of the table, it cannot capture all the nuances of the relevant regulations. It may therefore be important to consult the regulations directly and/or to seek legal advice on particular issues as they may arise. While we have tried to be as comprehensive as possible, because of the large number of local jurisdictions, some have been omitted due to their relative size.
Key
Gray: No legislation at any level within the state
Orange: State ban on local bag legislation
Blue: Some cities and/or counties within the state have legislation
Green: Statewide and local legislation
Download a Free Copy of the Consumer Bag Legislation Summary Matrix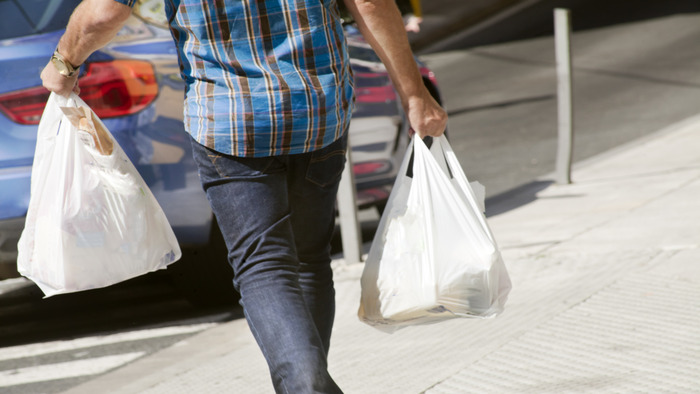 The matrix below is no longer being updated. Please download the above document for the most up-to-date information.
Tags
Retail Sustainability

Solid Waste

Matrix