Retail Speaks: Seven imperatives for the...
The retail industry has seen more innovation in the past year than at no other point in the prior decade. When faced with lockdowns, an array of new health-and-safety regulations, and volatile consumer demand, the best retailers proved resilient and agile. So, what has set the top performers apart? And how can retailers thrive in 2021 and beyond, even amid continuing uncertainty? The answers aren't trivial: as the nation's largest private-sector employer, the retail industry affects the lives and livelihoods of millions.

In this report, we present research findings from the Retail Industry Leaders Association (RILA), with McKinsey & Company as a knowledge partner. Our analysis identified seven imperatives that can give retailers the ability to adapt to a changing consumer landscape while pursuing new opportunities.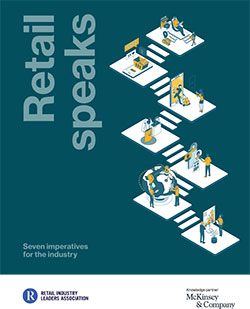 For a free copy of the report, please complete the form below.
7 IMPERATIVES FOR RETHINKING RETAIL
The changing competitive landscape will require retailers to pursue seven imperatives. The first four will be familiar to retailers, so their challenge will be to accelerate progress. The next three imperatives represent additional strategies and efforts that will be increasingly critical in the coming years

The ideal recipe will vary by retailer, so executives should review these imperatives based on their organization's starting point, business strategy, and the approach that fits best with their brand's DNA.
Doubling down on consumer-driven commerce
1 — BECOME OMNIPOTENT ON OMNICHANNEL
Consumers will choose retailers based on ease and richness of end-to-end experience
Two-thirds of survey respondents cited the growth of omnichannel and digital shopping as the most significant trend affecting the industry—and the greatest challenge. The growth of e-commerce and demands by consumers for seamless omnichannel experiences are here to stay: consumers expect to continue making more purchases online post-pandemic than before COVID-19. With e-commerce projected to reach 25 to 40 percent of sales across categories after the pandemic abates, retailers must understand the role of digital shifts on the customer journey, upgrade e-commerce capabilities, and rethink the network as the role of the store blurs.

2 — THIS TIME (AND ALL THE TIME), IT'S PERSONAL
Consumers expect personalized experiences and offers as table stakes; most retailers fall short of these expectations today
The pandemic has weakened brand loyalty significantly, but personalization, supported by data and analytics, is a powerful tool to strengthen the connection to the brand. Our research found most retailers are early in their personalization journey. While 100 percent of top-quartile1 retailers cited omnichannel personalization as a topfive priority, only 15 percent of retailers have fully implemented personalization across all channels.

To successfully implement omnichannel personalization, retailers will need to coordinate corporate efforts with store teams, integrate cross-channel activities, incorporate personalization into the in-store experience, and make more data-driven decisions. The end goal is to use sophisticated, largely digital capabilities to create distinctive customer experiences.
3 — TURBOCHARGE DELIVERY
As consumer expectations approach same day, stress on supply chain will mount
The speed of order fulfillment has become more critical than ever: the vast majority of consumers—over 90 percent—see two to three days as table stakes, and 30 percent expect same-day delivery. Targets vary by retail category: two or three days for specialty, same day for grocery, and within the hour for prepared foods.

In response, retailers are setting ambitious targets that will require significant investments to propel their supply chain fulfillment capabilities. Our survey found that 80 percent of retailers plan to concentrate their 2022 supply chain spending on addressing the constant demands on e-commerce fulfillment.
4 — TAKE A STAND OR TAKE A SEAT
Consumers are finally voting with their wallets for sustainability and broader purpose
The importance of environmental, social, and governance (ESG) factors was elevated by events in 2020. Consumers are holding companies accountable for their actions to a greater degree and now expect business to actively support ESG principles. All of the CEOs we interviewed raised without prompting the importance of consumer sentiment and the scrutiny on values and corporate social responsibility. Consumers, particularly millennials and Gen Zers, are voting with their wallets, rewarding companies that have a clear purpose and adhere to ESG principles.

Most retailers understand the link between "doing good" and bottom-line impact. Most (80 percent) believe that company actions matter to consumers, and 64 percent believe that those actions affect purchase decisions.
5 — RECALIBRATE TALENT STRATEGIES
Winning the war for diverse talent, next-gen skills, and embracing a fluid workplace will give retailers a performance advantage
Retailers typically need to augment their workforce and capabilities to succeed in the digital-dominated world. Four themes hold the key. Retailers are planning to boost their investment in digital full-time equivalents (FTEs) by more than 50 percent. When considering remote options, retailers must assess which roles work well in a remote location or office; the importance of human and physical interaction is one important lens.

In addition, retailers can significantly expand their talent pool for hourly and frontline associates by tapping into on-demand labor models such as the gig economy. Last, diversity and inclusion looms especially large, and leading retailers are making commitments to increase diversity in their workforce and the products they sell.
6 — PURSUE AN ECO(SYSTEM) - FRIENDLY STRATEGY
Winners will embrace the networked economy to win consumer mindshare and accelerate capabilities
McKinsey analysis suggests that a dozen sectors will reinvent themselves as ecosystems that could collectively function as a $60 trillion economy by 2025. By developing an ecosystem, traditional retailers have the potential to transform and leapfrog the competition, counter challenges from digital rivals, and engage with customers in new ways. Even if retailers aren't positioned to establish their own ecosystem, they will have to figure out how to compete, participate, or coexist.
7 — TAKE PRODUCTIVITY FROM FOUNDATIONAL TO TRANSFORMATIONAL
Analytics and automation will enable the step change in productivity needed to fund the other imperatives
Executing the previous six imperatives will require significant investment. Although retail as a sector has achieved outsized productivity growth over the past ten years, companies must deploy analytics and automation across the P&L to continue this trajectory.

Our research uncovered five areas that hold particular promise: tech-enabled stores, automated supply chains to increase visibility, indirect spending optimization, private-brand innovation and sourcing excellence, and automated business support functions.
About the research
The Retail Industry Leaders Association (RILA), with McKinsey & Company as a knowledge partner, conducted research on how retailers are approaching strategy and operations. Executives (such as CFOs, chief marketing officers, chief digital officers, and chief supply chain officers) at more than 30 US companies completed a benchmarking survey that covered more than 100 metrics and explored consumer outlook, digital acceleration, and future supply chain. The survey was augmented by in-depth interviews with top retail CEOs as well as proprietary McKinsey & Company customer research. The analyses and discussions identified the imperatives that will be critical to retail success now and in the future.
We wish to thank the following for their contributions to this report