Retailers Celebrate Black History and Black Excellence
Black History Month provides us all an opportunity to celebrate the incredible historical contributions of Black Americans to every community and every industry across the U.S. It's also a chance to continue listening and learning about the Black experience of today and identifying opportunities to enact real change.

Explore some of the way our members are celebrating Black History Month and Black excellence.
The retail industry recognizes the importance of lifting Black voices and stories and welcomes the opportunity that Black History Month brings to shine a light on some of those efforts, while recognizing that they must extend far beyond one month out of the year. The initiatives outlined below represent deep commitments to honoring the Black experience, celebrating the contributions of Black Americans to our history and culture, and shaping a more just and equitable society for all. Explore some of the way our members are celebrating Black History Month and Black excellence.

JCPenney's Hope & Wonder brand continues to build in 2023

In 2022, JCPenney launched Hope & Wonder™, its purpose-driven private label brand of apparel, gifts, accessories and home products for everyone in the family to celebrate moments that matter.
This year, JCPenney will donate 100% of net profits from Hope & Wonder's Black History Month collection to Black Girls Smile, a nonprofit organization providing Black women and girls with education, resources and support to lead mentally healthy lives.
Hope & Wonder's Black History Month collection was created and curated in-house by JCPenney's Creative Coalition, a team of BIPOC designers whose inspiration brought the collection to life. Several JCPenney associates and their families are also featured as models in the collection, which can be found in stores and online.
Best Buy: Celebrating contributions. Working toward equity and inclusion.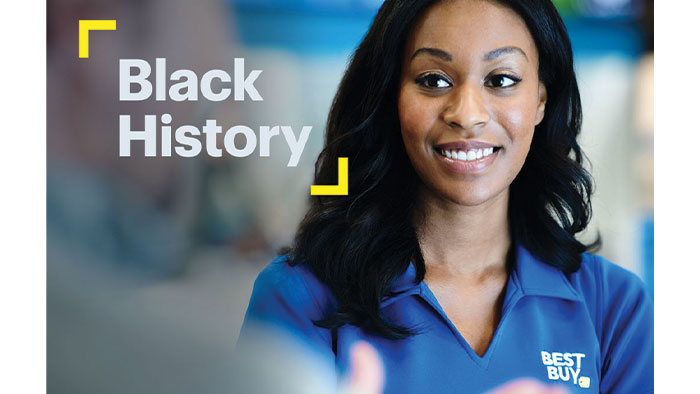 Best Buy's support for Black employees: Racial injustice demands action — by all of us. As part of Best Buy's commitment to doing better, it's stepping up efforts to achieve a more equitable future, both in the places we work and throughout our society. As we look back at the importance of Black history and the continuing challenges faced by Black Americans, Best Buy is finding ways to support Black employees as they advocate for positive change.

Supporting the Black leaders of tomorrow: Ensuring the future of tech is more equitable hinges on increased access, education and opportunities for all, and there are many ways we are building toward a brighter future within the communities in which we live and work. We are continuing to expand and invest in a network of education programs, mentorships, and scholarship initiatives across the country.
More on Best Buy's initiatives working toward equity and inclusion here.

Nike: Future Movement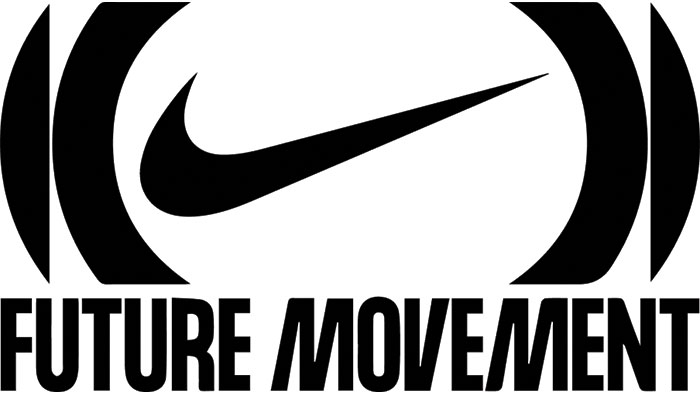 Nike is committed to uplifting and amplifying the Black community. This Black History Month, Nike recognizes the pursuit of communal well-being through the different forms wellness can take. Explore here.

NIKE, Inc. is also committed to the socioeconomic development of the Black community. In an effort to begin addressing systemic racism in America, Nike, Converse, Jordan Brand and Michael Jordan committed a combined $140 million over 10 years to invest in and support organizations focused on economic empowerment, education and social justice to address racial inequality for Black Americans.
Target Uplifts Black-owned Businesses & Designers Year-Round
This year, Target's annual
Black History Month
celebrates a culture that invests in Black businesses and entrepreneurs year-round. Target is once again debuting an exclusive
Black History Month product assortment
created for and by the Black community. This year's 100% Black-owned or designed collection features products from brands like
Sammy B
,
Little Giants Giant Shorties
and
Ade + Ayo
and more.
Target's
Black Beyond Measure campaign
continues to uplift Black entrepreneurs and HBCU students, and invites guests to shop products from Black-owned or founded brands. Target has partnered with HBCUs for the third year in a row to feature designs from our 2022 HBCU Design Challenge winners. The winners had the opportunity to partner with the Target team to learn about all aspects of production – from textile selection to placing the new products in stores.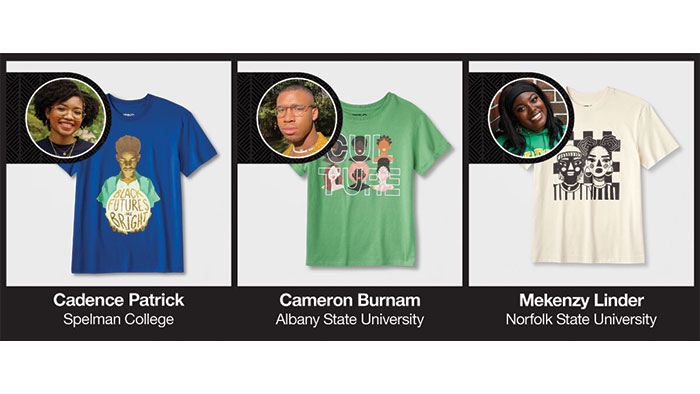 Target is building momentum through Black History Month and beyond, celebrating our partnerships with Black designers and creators, and building on our commitment to spend more than $2 billion with Black-owned businesses by the end of 2025. Target is also a founding supporter of the PENSOLE Lewis College of Business & Design, which offers free tuition to aspiring Black designers, engineers and leaders. Target's goal for Black History Month 2023? To inspire today and create spaces for the Black creators of tomorrow to grow and flourish.
The Home Depot Quadruples Commitment to HBCUs

The Home Depot recently announced it will increase its investment in Historically Black Colleges and Universities (HBCUs) to $4 million in 2023 by launching an expanded range of community projects and career resources for students in its Retool Your School program.
Half of The Home Depot's increased commitment will prepare HBCU students to thrive in their future careers with new needs-based programs including externships, scholarships, career workshops and innovation lounges. The other $2 million will double the flagship Retool Your School Campus Improvement Grant, which provides grants to HBCUs supporting campus enhancements. In its 14-year history, the program has given more than $5.2 million across 184 HBCUs.
Dollar General Employees Committed to Serving Others
Dollar General believes in core values of respecting the dignity and differences of others, as well as celebrating success and recognizing the contribution of others through our mission of Serving Others. The company celebrates these values every day, and its African American Employee Resource Group (AAERG) especially reflects on and honors their importance during Black History Month.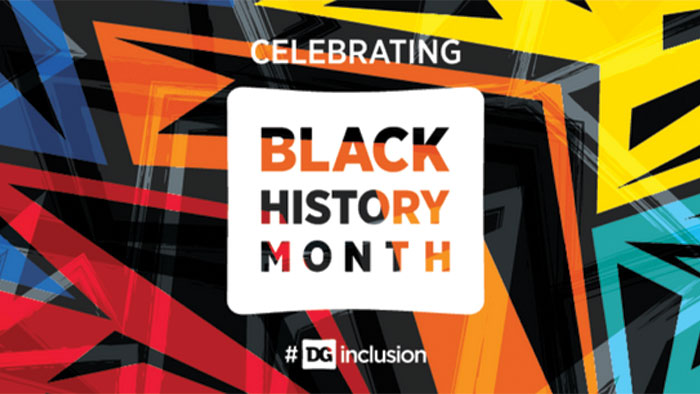 This month, our AAERG is proud to host several Days of Service community volunteer opportunities for employees and programs aimed to recognize and celebrate diversity. Employees will serve metro Nashville, Tennessee through volunteer opportunities at the Nashville Diaper Connection, The Black Book Project and FiftyForward.

Additionally, the AAERG will host two special events during the month with meaningful commentary with special guests including NFL legendary wide receiver, Jerry Rice, and Vernice "FlyGirl" Armour, America's first black female combat pilot, former Marine and cop, author of Zero to Breakthrough and consultant to business.
Canadian Tire Celebrates Black History Month
This year, Canadian Tire corporation (CTC) proudly celebrates Black History Month with a series of programming that honours Black Life, History, and Culture.

These events are guided by our employee-led Black Employee Network – one of the many Employee Resource Groups that help us create a more inclusive culture for employees of all identities across the organization.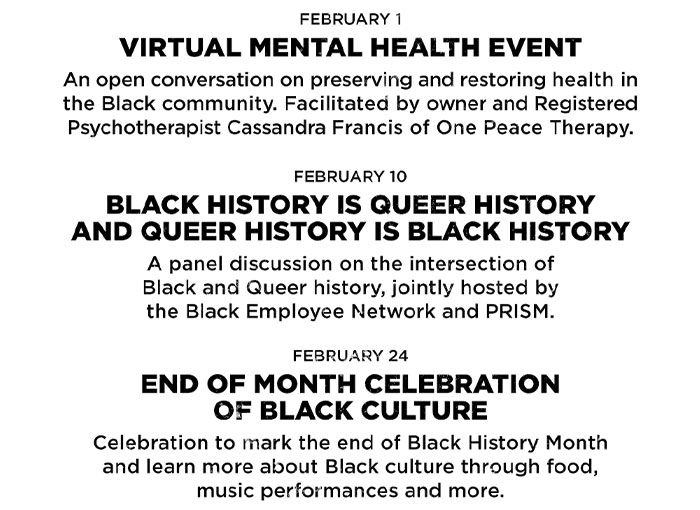 Learn more about CTC's approach to Diversity, Inclusion & Belonging here.

Old Navy, Gap Kick Off Black History Month with a $50,000 Donation to the 15 Percent Pledge
In honor of Black History Month, Old Navy is partnering with three incredible artists - Lo Harris, Temi Coker and Destiny Darcel – on the latest collection of its Project WE tees. Project WE is an ongoing series of tees featuring powerful graphics from diverse artists to imagine a more inclusive world through art. The tees are: $9.99 (toddler), $10.99 (kids) and $14.99 (adult).
Additionally, Old Navy is proud to donate $50,000 to the Fifteen Percent Pledge in continued support of their work to advance racial and economic equity for the Black community.

As an ongoing partner of Fifteen Percent Pledge, Gap Inc. has committed to increasing its pipeline programs by Fifteen percent to drive access and opportunity for the Black community within the Gap Inc. family of brands starting with early empowerment programs. This Black History Month, Gap is proud to donate $50,000 to the Fifteen Percent Pledge in continued support of their work to advance racial and economic equity for the Black community.

Gap will also collaborate with designer and activist, Aurora James throughout the month to showcase her favorite Black-owned businesses on Gap's Instagram. She will kick things off with an IG takeover, following up with weekly posts highlighting the businesses she selected.

Academy Sports + Outdoors is proud to celebrate Black History Month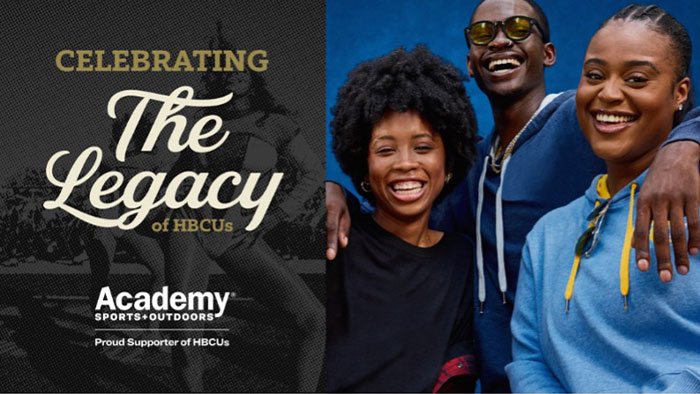 Academy Sports + Outdoors is proud to celebrate Black History Month and the immeasurable impact our Black Team Members make every day. In honor of Black History Month, our B.A.S.E.S. (Black Alliance for Social and Enterprise Success) Team Member Resource Group (TRG) planned initiatives focused on celebrating, educating, serving, and creating future impact, including a panel discussion with Academy Black leadership and supporting local Black-owned businesses. There is also a food drive benefitting HBCU Prairie View A&M University's Hilltop Reserve Market, the campus food pantry that helps students who face food insecurity, hunger, and homelessness as they pursue their educational goals. To recognize our Team Members, our company is spotlighting Black Team Members in our newsletter and social channels, highlighting favorite traditions, what Black History Month means to them, and impactful resources for inspiration and information. To celebrate with customers, we are proud to carry The North Face's Black History Month Collection as well as a broad assortment of HBCU (Historically Black College and University) gear from brands such as Nike, Mitchell & Ness, Under Armour, and adidas.

As the Official Sporting Goods and Outdoor Retailer of the SWAC, CIAA, and SIAC athletic conferences, Academy Sports + Outdoors is offering all HBCU students, faculty, and staff a 10% discount on all purchases made in-store and online through February 26. We are also making a positive impact on our local communities this month by providing over $25,000 in charitable givebacks across our footprint

Academy is dedicated to creating a lasting impact through the education of local youth in underrepresented communities. We established the Academy Sports + Outdoors Scholarship Fund for Jack Yates High School in Houston, TX, committing to donate $250,000 through 2025, as well as The Piney Woods School, in Piney Woods, MS, pledging $60,000 over three years.
Meijer Committed to Supporting Black & African American Community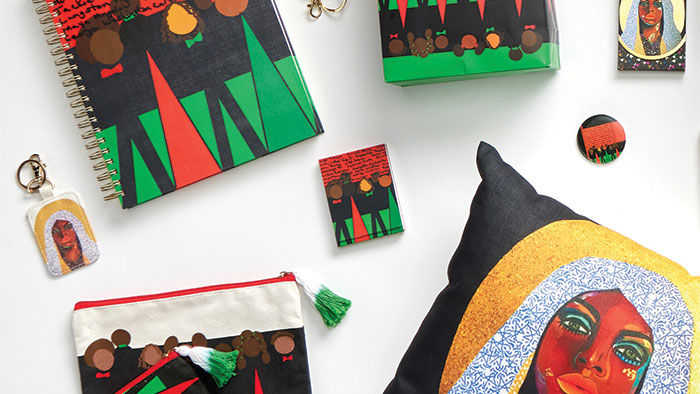 Community comes together at Meijer. While the retailer is committed to supporting its Black and African American customers, vendors and community year-round, Black History Month offers the opportunity to shine a special light on that commitment.

Similar to previous years, the retailer's in-store experience spotlights ints Black-owned business partners across the store - from food and alcohol to beauty and home goods.

New this year, Meijer introduced a special Black History Month collection of products featuring the art of Black Midwestern artists. The collection includes a mix of paintings and digital art printed on decorative pillows, stationery, gift bags, canvas tote bags, key rings, kitchen towels and throw blankets, featuring the three winning pieces of art. The limited-edition products are available in all Meijer supercenters as supplies last now through Feb. 26. And to further support its ongoing DEI journey, Meijer will donate 5 percent of the sales generated from this art collection to Urban Leagues in the artists' states - the Urban League of West Michigan and the Indianapolis Urban League.

Additionally, Meijer is taking the opportunity to highlight some of the many community partners throughout the Midwest that it supports throughout the year, including the African American Male Wellness Agency in cities across the Midwest, local Urban League affiliates, All of the Above Hiip Hop Academy in Lansing, Mich., the National Minority Supplier Development Council and BU Wellness Network in Indianapolis.
Levi Strauss & Co.: Celebrating Black Culture and Joy
Levi Strauss & Co. is using the 28 days to celebrate Black joy and put a spotlight on the many untold stories to inspire and uplift Black culture. To kickstart the month, Project Onyx, LS&Co.'s Black employee resource group, sat with Dr. Ameer Hasan Loggins — a graduate of UC Berkeley with a Ph.D. in African American studies and a postdoctoral fellow at Stanford University — and employees globally to discuss Black consciousness and Black love. The discussion explored the role of consciousness and love in living in liberation.

Levi Strauss & Co. is also working hard to listen so it can better understand the experiences of Black and Brown employees. This will help develop programs and policies in support of the recruitment, hiring and promotion of more People of Color at all levels of the organization and to provide the best employee experience possible.
Learn more here.
IKEA U.S. Makes Room to #TakeUpSpace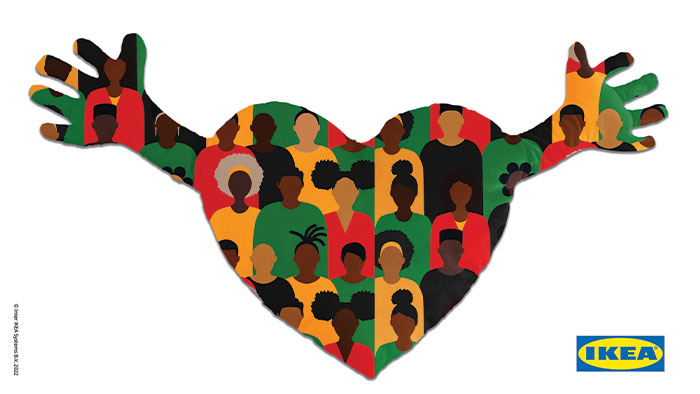 At IKEA U.S., we believe that equity is a human right. Equity, diversity, and inclusion is a strategic imperative, makes good business sense, and is simply the right thing to do. We are proud to celebrate Black History every February, and throughout the year, by recognizing the contributions of our Black co-workers and highlighting Black culture and communities.

Across the U.S., nearly 18 percent of our co-workers at IKEA identify as Black or African American. We are amplifying their stories and ensuring co-workers have room to take up space. We're committed to improving and accelerating our internal efforts to support the upward mobility of underrepresented co-workers across ethnicity and race, gender identity and all sexual orientations. By 2027, each IKEA unit in the U.S. will reflect the ethnic and racial demographics of their local environment at every level of leadership. Along with this goal, IKEA U.S. is sharing more insightful details on our equity journey for the first time in our FY22 Annual Summary. This data will allow the public to track our progress toward creating a more equitable workforce that is representative of the communities we serve. Additionally, in 2022, the IKEA U.S. Community Foundation granted nearly $500,000 to over 100 local Black-owned businesses and organizations across the country as part of our Black Business Initiative commitment.

As leaders of Life at Home, we know that home is an extension of identity and that authenticity at home makes for a better space. That's why, throughout February, we're partnering with Black creators who are making room with IKEA U.S. to take up space in the ways that matter most to them. Check out how @BeRootedCo—founded to create space for women of color—is growing from a home office to a new business space! See how Obio Jones @obiojones' IKEA visit inspires him to take up even more space as an LGBTQ+ advocate and life coach; and Ebony @brownskinbeautiful takes us all on a journey of affordable solutions and beautiful design as a Black content creator. With more creators to come and co-worker stories to tell, IKEA U.S. is proud to inspire the ways we make room to take up space.
In Celebration of Black History month, Apple releases Black Unity collection and content
Apple commemorates Black History Month with exclusive content and curated launches celebrating Black culture and community. Additionally, through its Racial Equity and Justice Initiative (REJI), Apple is expanding its support of five organizations focused on uplifting Black and Brown communities by unlocking creative potential through technology.

Kohl's Celebrates Black History Month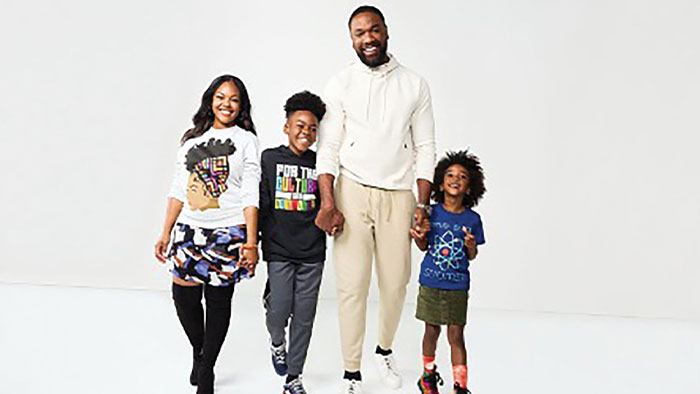 To honor Black History Month, Kohl's is expanding partnerships with Black-owned businesses, amplifying the voices of Black associates and expanding relationships with Historically Black Colleges and Universities to magnify Black joy and pay tribute to Black trailblazers across the country.

The company's "Celebrate and Elevate" spotlight collection concept was brought to life by Kohl's Black Diversity Design Council (DDC) captains, with art created by Black DDC members, to develop authentic products that resonate with our Black customers. Along with these products, Kohl's understands all parts of the customer journey matter, so the company made sure all Black History Month marketing artwork was 100% Black-designed.

Kohl's is proud to support the National Urban League through an investment of $100,000 to support its mission to promote economic empowerment, access to health care, educational, job and housing opportunities and the guarantee of civil rights for the underserved in America. Since 2020, Kohl's has donated $300,000 to the National Urban League. This year's donation supports the company's broader commitment to donate $20 million in support of diverse communities by 2025.

Nordstrom Honors Black Experiences
Since its founding, Nordstrom has endeavored to support and celebrate the diverse communities it serves. This year in honor of Black History Month, the fashion retailer honors Black culture by highlighting employee stories, celebrating Black-owned and Black-founded brands and creating experiences to engage customers and local communities.
Victoria's Secret Celebrates Black & African American People & Culture
Victoria's Secret & Co. knows that diversity makes us stronger, and is excited to recognize Black History Month in the U.S. this February. The company is being intentional about taking time to celebrate and amplify Black and African American people and culture while also reflecting on how it can continue to make meaningful change for communities.

Explore how Victoria's Secret & Co. is celebrating here.

DICK'S Sporting Goods Celebrates the #differencemakers
In celebration of Black History Month, DICK'S Sporting Goods is launching its exclusive #differencemakers activation to honor and pay tribute to Black American individuals and organizations who are creating history every day. DICK'S has identified four organizations that are making a difference in the lives of Black youth in sports - Harlem Lacrosse, New York Junior Tennis & Learning, Downtown Boxing Gym and The SEAD ProjectTM – to highlight and feature on the company's official Instagram during the month of February. DICK'S will also give each of these organizations a $25,000 donation to support their work. Additionally, DICK'S is proud to reaffirm its commitment to creating an inclusive and diverse workplace by continuing to advance progress towards organizational representation through 2025 and beyond with teammate Dialogue Circles and specialized trainings, new recruitment partnerships and investments in BIPOC organizations.

Burlington Stores Elevates Black Content Creators
Burlington Stores, the national off-price retailer, celebrates diversity, stands for equality, and respects the dignity of each individual. They embrace the many facets of diversity that strengthen our communities. Burlington's commitment to advancing and promoting diversity, equality and inclusion extends beyond its corporate offices and stores, and spreads into their communities through their partnerships that impact positive change and amplify the diverse voices of tomorrow.
Tags
Diversity

Ensuring a Safe, Sustainable Future

Investing in People

Leading in the Community

Retail Impact

Workforce

Retail Works for All of Us