Earth Day Spotlight on New Retail Sustainability Efforts
Retailers are increasingly embracing sustainability as a core business value. Accelerated by growing consumer demand and corporate social responsibility expectations, retail leaders are integrating sustainability and environmental commitments throughout the enterprise and are making bold investments in initiatives to help combat climate change, reduce waste, drive clean energy adoption, and more. They are setting long-term goals to reduce environmental impact and ensure a safe, sustainable future for all.

As we celebrate Earth Day 2023, many retailers are using the day and call to action as an opportunity to establish new, ambitious sustainability projects.

Explore the latest news from retailers below.

Ahold Delhaize USA Plans to Reach Net Zero
All Ahold Delhaize companies – in the U.S. and globally – have committed to net-zero carbon emissions across own operations by 2040 (scope 1 and 2) and to becoming net-zero businesses across the entire supply chain, products and services no later than 2050 (scope 3). Ahold Delhaize has joined the Business Ambition for 1.5°C in partnership with the Science Based Targets initiative and the U.N.-led campaign "Race to Zero."

More broadly, this past year, Ahold Delhaize USA companies unveiled new health and sustainability goals as part of a detailed purpose-driven strategy to enable customers to make healthier choices, create greater product transparency, eliminate waste and take bold climate action, all in support of developing a more sustainable food supply chain. The net-zero commitment builds upon the climate action commitments announced earlier this year.

For Ahold Delhaize USA companies, moving to net zero is part of the company's overall commitment to make a local impact with a greater purpose. By taking a leadership position in the drive toward net zero, Ahold Delhaize USA can make a vast difference for the future of our world and the local communities its brands serve.
Best Buy is committed to supporting a system where nothing is wasted
Best Buy committed to supporting the circular economy, a system in which nothing is wasted. One way they bring this pledge to life is by being there for the entire lifecycle of your technology products — from the time you start shopping at Best Buy until that product is responsibly recycled.

This Earth Month and year-around, Best Buy is keeping products and materials in use as long as possible and finding alternatives to throwing them away. Through programs including Geek Squad repair and haul-away services, they are making it easy to give tech a second life and out of landfills. As part of their recycling program, Best Buy introduced a new nationwide, easy-to-use service that allows you to recycle all your old tech – by mail! Starting this month, you can order a prepaid Best Buy Technology Recycling Box and ship off your old electronics to be safely and responsibly recycled. To continue supporting their goal of achieving net zero emissions by 2040, the box is a carbon neutral service.

Carter's® baby & kid clothing recycling program
This spring, TerraCycle® and Carter's are joining forces to make recycling your little's most-loved, lived-in clothes super simple. Any non-donatable baby & kid clothing brands are welcome (Psst… no shoes or accessories at this time.) PLUS Carter's Rewarding Moments® members can earn points* for recycling with the store.
Nordstrom Celebrates Earth Day: Progressing Toward Environmental Sustainability Goals
Nordstrom is committed to leaving the world better than we found it. To celebrate Earth Day, Nordstrom shared it has made progress toward its 2025 Corporate Social Responsibility and Environmental Sustainability goals. It is contributing $250,000 in corporate grants to help slow and prevent climate change, contributing $1 million to support industry innovation for textile recycling, taking back 100 tons of beauty packaging to ensure it is recycled, reducing single-use plastic in its value chain by 50%, and ensuring 15% of its product assortment qualifies for Sustainable Style. Learn more here.
The Home Depot's Commitment to Reducing Plastics, Sustainable Packaging
Beginning in 2019, The Home Depot began a multi-year partnership with its suppliers to reduce the use of plastics. The company is focused on a combination of actions including conversion to recycled plastic, reduction of virgin plastic and elimination of plastic altogether. Since this program began, The Home Depot and its suppliers have reduced (or converted to recycled plastics) by over 155 million pounds. In total, over 55 suppliers have contributed to the plastics reduction program. Learn more here.

In 2020, The Home Depot announced its commitment to eliminating expanded polystyrene (EPS) foam and polyvinyl chloride (PVC) film from private-label packages by 2023. The Home Depot's packaging team works with private label product suppliers to apply science to creating better packages. Their goal is to reduce package footprints and use more sustainable materials to secure and protect the private-label products they sell. Learn more here.
These stories and others can be found on The Home Depot's Eco Actions website, a helpful resource dedicated to environmental issues such as carbon emissions, responsible chemistry, circularity, sustainable forestry and water conservation.
Kroger Celebrates Earth Month
The Kroger Co. recently announced it is celebrating Earth Day the entire month of April with its Zero Hunger | Zero Waste Foundation making contributions to World Wildlife Fund (WWF) and the Arbor Day Foundation.

From now through April 30, customers can join the celebration by rounding up their purchases to the nearest dollar amount at checkout to benefit WWF, with the Kroger Co.'s Zero Hunger | Zero Waste Foundation matching customer donations up to $50,000. One hundred percent of all donations made during the month of April will go directly to WWF, the world's leading conservation organization, working in 100 countries and supported by five million members worldwide. Funds will benefit WWF's conservation and sustainability efforts in our communities, across the country and around the world.

The Zero Hunger | Zero Waste Foundation is also supporting efforts to increase tree canopies in communities impacted by extreme weather, including Shreveport, Louisiana and Bowling Green, Kentucky with a $50,000 contribution to the Arbor Day Foundation. The donation will support the distribution of hundreds of trees in each community. Expanding the tree canopy in these areas will help combat impacts from natural disasters like hurricanes and flooding.

Learn more here.

Target's Putting Sustainability Goals into Action During Earth Month 2023 — and Beyond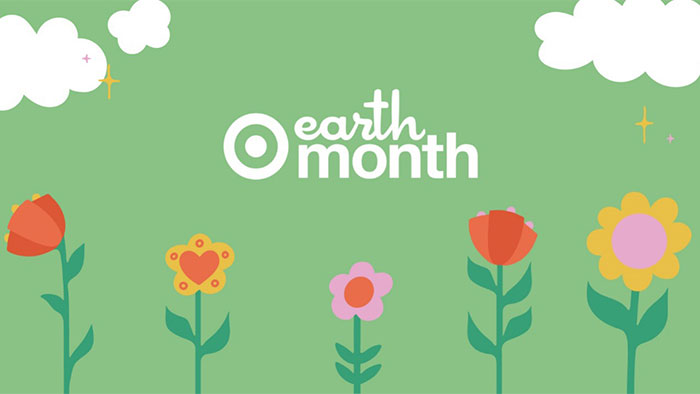 During Earth month and year-round, sustainability touches Target's entire business. It shows up in how the company sources and designs products, invests in the Target team and communities, develop partnerships in the supply chain and power stores. It all matters, and it's all woven into Target's enterprise-wide sustainability strategy, Target Forward.

Target teams play a critical role in the way the retail leader champions a sustainable world. Take a look at some of the areas where Target is working to make a difference.
TJX Launches Goals for Net Zero, Renewable Energy, Sustainable Packaging
Apparel and home fashions retailer The TJX Companies announced the launch of a series of new sustainability goals focused on climate change, renewable energy, waste and product packaging, including a goal to achieve net zero greenhouse gas (GHG) emissions in its operations by 2040.

In addition to its new net zero goal, by 2030, TJX is aiming to source 100% renewable energy in its operations, and for 100% of packaging for its in-house developed products to be reusable, recyclable, or contain sustainable materials. TJX also announced a target to divert 85% of its operational waste from landfill by 2027.

Lowe's Invests in Renewable Energy with Rooftop Solar Panel Installations at 174 Locations as Part of Net-Zero Target
In line with its goal to reach net-zero greenhouse gas emissions by 2050, Lowe's recently announced details of rooftop solar panel installations at 174 store and distribution center locations nationwide, including 20 sites currently in operation. Once each site is completed, the solar panels will provide approximately 90% of the energy usage at each location. These investments will help Lowe's reduce its operational emissions and reach its goal of having its operations powered with 50% renewable energy by 2030.

"At Lowe's, we are focused on operating responsibly and reducing our impact on the environment," said Chris Cassell, Lowe's vice president of corporate sustainability. "Investing in renewable energy lowers operating costs and is an important step in reducing emissions associated with our stores and distribution centers. This initial rooftop solar portfolio is one example of the collaboration we seek with partners as we work toward our long-term and interim net-zero goals."

Learn more here.
Abercrombie & Fitch Committed to Progress
A&F Co. is committed to social and environmental sustainability and has been a participant in the United Nations Global Compact (UNGC) since 2019. In an effort to reduce its climate impact, A&F Co. has pledged that the energy used at its Global Home Office and Distribution Centers will come from 100% renewable resources beginning in 2023.


A&F Co. strives to source sustainable fibers for its products and sources 100% of its down from Responsible Down Standard (RDS) certified sources, five years ahead of its 2025 target date. The company is also working to source 25% recycled polyester, 100% wool through the Responsible Wool Standard (RWS) and 50% Canopy supported viscose by 2025.

At its Global Home Office, A&F Co. has a goal to reduce waste by 50% by 2025. To help facilitate this, a food scrap kitchen composting project was launched in late 2021 in the café. In 2021, three tons of food waste was diverted from landfill.
Visit A&F Co.'s Sustainability Page to read more about its continued commitment and progress in responsible sourcing, supply chain capacity building and environment.
RILA will continue to update this page to reflect the latest Earth Day news from the industry. If you are a RILA member who would like your company's news featured here, please reach out to Caroline Stec.
Tags
Climate and Sustainability

Ensuring a Safe, Sustainable Future

Retail Works for All of Us

Sustainability & Environment