​Asset Protection Innovation Awards
​Sponsor Community: RTech Asset Protection Advisory Council
RILA's RTech Asset Protection Innovation Awards recognizes retailers innovate in the areas addressed in the Total Retail Loss Report. The TRL report is the first ever study that examines how the retail industry understands the nature and extent of all the;potential types of losses they presently experience. It is designed to give an overview of the top needs and challenges of the retail asset protection space. If your technology is a game-changer in the field of retail asset protection, please consider applying!
Why Apply
The RTech Asset Protection Innovation Awards recognize and; showcase game-changing technology that mitigates total retail loss.
Tell us how your technology helps improve retail asset protection.
Award Benefits
Exposure to top retail executives. Finalists will have an unparalleled opportunity for visibility in front of the top decision makers in the industry, at one of the largest events of its kind. Finalists will also interact with retailer executives in the conference's Expo Experience, for invaluable one-on-one discussions.
Media exposure. Retail trade press will attend the conference. Additionally, RILA will arrange press interviews, press releases, blog posts, and a media campaign highlighting the finalists and winners.
Showcase in RILA marketing. Finalists and winners will be energetically promoted on the RILA web site, and in RILA conference promotional materials (to include branding, videos, and other relevant collateral).
Total Retail Loss Report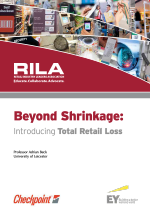 For a free copy of "Beyond Shrinkage: Introducing Total Retail Loss", please complete the form below.
Selection Process
Each entrant will complete the entry form and submit a 1-to-3-slide PowerPoint deck outlining their innovative solution, describing its features, benefits, and impact/ROI on the areas addressed in the Total Retail Loss Report.
Valid entries will be reviewed by top asset protection executives from RILA members—the largest and most recognizable retailers in the country. Finalists will be selected by April 2020.
Finalists will then be asked to deliver a pitch to over 1,000 top retail asset protection executives at RILA's annual Retail Asset Protection Conference in Dallas, May 2-6. Winners will be chosen by a select committee of retail asset protection executives at the conference. Additionally, all retailers in attendance will vote on a "Retailers' Choice" award, reflecting the industry favorite from among the finalists.
Submission Criteria
All companies are welcome to apply, regardless of location. Attach and submit a 1-to-3-page PowerPoint overview of your innovative solution via the application form. Explicitly indicate how your technology, services, or products address the different types of loss defined in the Total Retail Loss Report. Entries exceeding three slides will not be considered.

Submissions for the 2020 Asset Protection Conference is currently closed. Please subscribe to our mailing list to receive notification for when applications open.
Please note to participate in any RILA event as a non-retailer, you must be registered to exhibit or sponsor. For more information about exhibiting and sponsoring, contact Tripp Taylor, Vice President, Business Development at tripp.taylor@rila.org.