Hella Awkward: A Spotlight on Black-Owned Brands
Many leading retailers operate supplier diversity programs to strengthen the inclusivity of their procurement practices to the business's benefit. Increasingly, these programs go beyond supporting diverse business services suppliers and now work to offer products from minority-owned businesses on retail shelves and e-commerce sites. Supplier diversity program advantages range from expanding competitive offerings in categories that underserve key market segments to supporting generational wealth creation to being a great example of purpose in action may resonate with many existing and potential employees and customers.

As part of RILA's boarder worker with our members supporting retail supplier diversity efforts, we recently sat down with several Black-owned brands to learn more about their stories, what differentiates their products, and some of the most impactful ways retailers have or could support them.

Check out our conversation with Brittane Rowe, Co-Founder of Hella Awkward.
Q1: Tell us all about yourself and the Hella Awkward origin story – how did it come to be?
BR: Awkward Games was founded by myself, my brother Brandon Rhodes & his partner Jane Lim during NYC quarantine 2020. We are a Black/AAPI/Family/Women/Immigrant owned business on a mission to create meaningful connections across culture through conversation. Our flagship tabletop game Hella Awkward is sold nationwide and has been featured in Buzzfeed, Dieline, Essence & Health Magazine. Hella Awkward is the card game that sparks unforgettable experiences of connection, laughter & fun, one awkward conversation at a time! We created this game to inspire meaningful conversations for people like us. Growing up, these types of conversations weren't had in our communities. Hella Awkward is a tool for sharing our stories, connecting in safe spaces and diving into our feels in a fun game setting.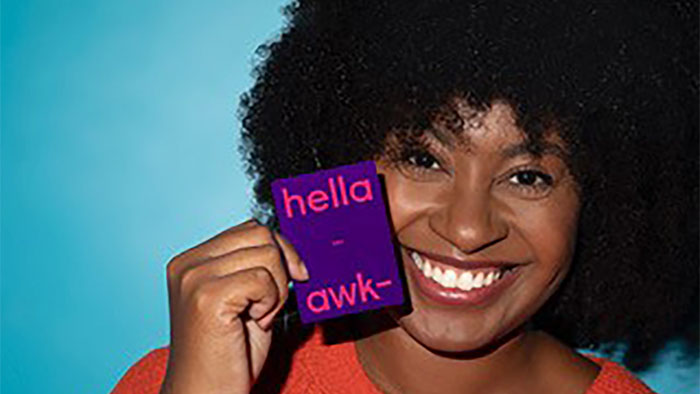 Q2: What's your most popular category– and what's personally your favorite category (if they're different!)?
BR: Hella Awkward features 140 questions across 4 categories within the game: real talk, dating, sex and relationships. Real talk become a fast fan favorite with questions like "define love". There was so much demand for more questions that we made an expansion pack of that category with 45 new questions to add to your game night experience. Don't worry, we're working on expanding the remaining categories soon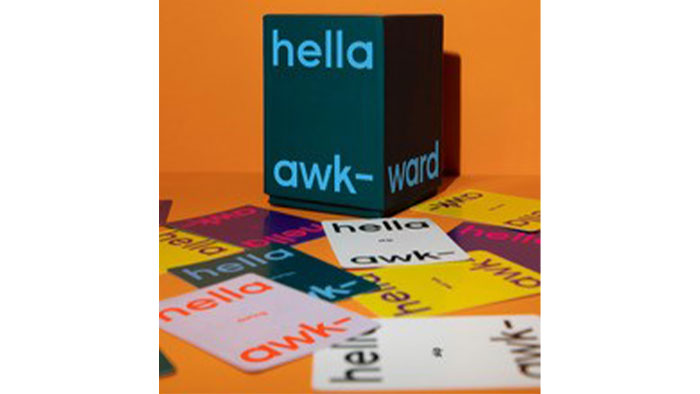 Q3: When you think about your journey to date with Hella Awkward, what are you most proud of?
BR: A purchase order from Target!!! Knowing our game will be distributed nationwide is a dream come true! We are proudly opening doors for Black & Asian entrepreneurs to be seen in major retailers. We're so passionate about lifting others up with us, we want to create a pathway for BIPOC founders to start impactful businesses of their own. We launched our game "Hella Black" along with The Shade Room and we're giving 10% back to Black Owned Businesses.
Q4: What's been the most fun?
BR: The initial product iteration phase was a blast. We were able to dive into the creative process while building the game questions, design and functionality. While constructing the game, we learned so much about each other (maybe too much) and it really deepened our relationships.
Q5: What's been most challenging?
BR: Navigating the global supply chain during a pandemic is no easy feat. We sold out after the holidays in 2021 and were unable to quickly replenish our inventory due to the issues happening in freight. It took approximately five months before we could restock and lots of managing customer expectations.
Q6: Where can shoppers find your products?
BR: You can find us at Hellawkward.com, Target, Amazon, select Macy's stores as well as a few museum gift shops including the Museum of Contemporary Art in Chicago and San Diego and numerous small retailers across the US/Canada.
Q7: In your opinion, what are the two most important things retailers can do to be good partners to the Black-owned brands they carry or are considering carrying?
BR: Marketing support beyond Black History Month initiatives as well as creating a pre-launch game plan with benchmarks and KPI's to better understand desired metrics before you reach the shelf.

To learn more about Hella Awkward, visit https://hellawkward.com/ , follow on social @hellawkwardcards or reach out to hello@hellawkward.com.

To learn more about RILA's work on supplier diversity, reach out to Erin Hiatt, VP of CSR at Erin.Hiatt@rila.org.
Tags
Diversity

Investing in People

Workforce