Black Paper Party: A Spotlight on Black-Owned Brands
Many leading retailers operate supplier diversity programs to strengthen the inclusivity of their procurement practices to the business's benefit. Increasingly, these programs go beyond supporting diverse business services suppliers and now work to offer products from minority-owned businesses on retail shelves and e-commerce sites. Supplier diversity program advantages range from expanding competitive offerings in categories that underserve key market segments to supporting generational wealth creation to being a great example of purpose in action may resonate with many existing and potential employees and customers.

As part of RILA's broader worker with our members supporting retail supplier diversity efforts, we recently sat down with several Black-owned brands to learn more about their stories, what differentiates their products, and some of the most impactful ways retailers have or could support them.
Check out our first conversation with Madia Willis, CEO of Black Paper Party.
Q1: Tell

us all about yourself and the Black Paper Party origin story – how did it come to be?
MW: Black Paper Party began as a brainstorming session among friends. I had moved to Northwest Arkansas to work for a major retailer and met Jasmine while we were planning an event for our African American resource group. Jasmine's best friend is our 3rd partner, our amazing illustrator J'aaron. We started talking about ways to combine my experience in textile design, product development and sourcing with Jasmine's experience in merchandise planning and buying with Jae's talent in illustration, particularly illustration of Black characters.

After doing some research we discovered that African Americans spend 15% more than other demographics during Christmas, but that there really were no companies that specialized in creating inclusive seasonal products for this underrepresented demographic on a large scale. We started with a small test on the Print on Demand site Zazzle in 2019. Once we realized there was a market, we incorporated in September of 2020, and thus, Black Paper Party was born! Black Paper Party is designs, manufactures, and licenses culturally relevant seasonal products that spread joy and celebrate Black families for all to enjoy. Our team combines 20 years of corporate retail experience in design, planning, buying, product development, and sourcing with award winning illustrations to create unique products like wrapping paper, gift bags, ornaments, greeting cards, and decor. Our commitment to our community is to provide trend relevant, high-quality products that provide authentic representation for all holidays and occasions.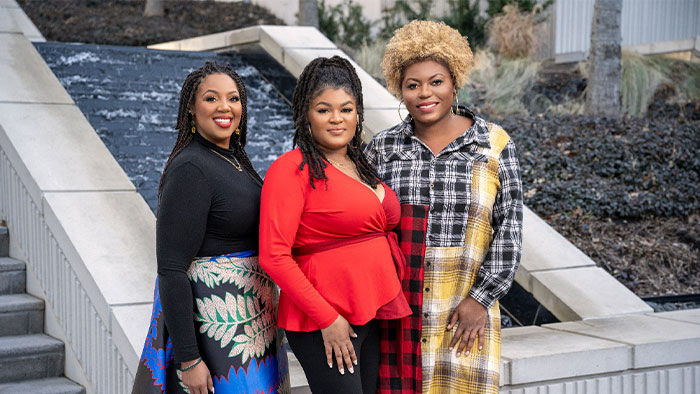 Q2: What's your most popular product – and what's personally your favorite product (if they're different!)?
MW: Our most popular product is our gift wrap multipack. It has 4 assorted rolls of heavyweight premium paper with metallic inks. We add new collections every year. My favorite product is from our 2023 Walmart Holiday program. It's a stocking that features our Malachi character popping out of the cuff. Getting the hair texture and facial features right was a labor of love, but was a huge hit with our customers, hundreds of whom wrote us to tell us their sons saw themselves in the stocking!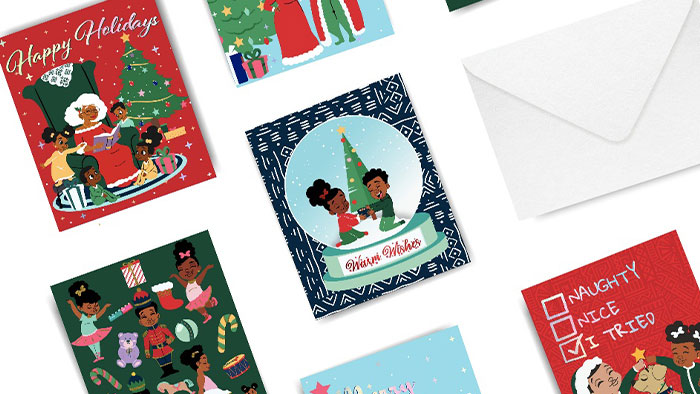 Q3: When you think about your journey to date with Black Paper Party, what are you most proud of?
MW: I'm most proud of the way our product resonates with our customers. We are helping people create Holiday memories. It feels so good to be a part of that! Some of the feedback we've received:
"I love that my kids get to see their faces on Christmas decor! A much-needed addition to the market in the cutest way possible! Fabulous design & great quality."

"As a mixed-race family, we wanted to make sure our Christmas decor celebrated and reflected all of us. That has been hard to find, so these products are really wonderful, and put big smiles on all our faces!"

"I love this paper! So glad to find a beautiful, fun, original representation that doesn't look contrived."
Q4: What's been the most fun?
MW: Building the brand architecture with J'aaron has been the most fun. From our Aunt Holly character who is the single rich auntie who gives the best gifts, to our gnomies who get into Christmas shenanigans in the North pole, to our Klaus Family, headed by Papa and Nana Klaus who are always surrounded by their grandchildren, the Klaus babies. We've put a lot of thought into the backstories when bringing our products to life.
Q5: What's been most challenging?
MW: We're a small team managing a startup that is scaling rapidly. Our biggest challenges are building infrastructure and raising capital to continue our trajectory.
Q6: Where can shoppers find your products?
MW: Blackpaperparty.com, Target and Target.com; Market By Macys and Macy's.com, TJ Maxx, Marshalls, Home Goods, Family Dollar, Amazon, and Walmart
Q7: In your opinion, what are the two most important things retailers can do to be good partners to the Black-owned brands they carry or are considering carrying?
MW: Onboarding support with centralized points of contact and marketing support.

To learn more about Black Paper Party, visit www.blackpaperparty.com or reach out to mailto:info@blackpaperparty.com
To learn more about RILA's work on supplier diversity, reach out to Erin Hiatt, VP of CSR at Erin.Hiatt@rila.org.
Tags