RIC Startup Network Celebrates 2nd Anniversary
Two Years and 200 Startups Strong
This month marks the 2nd anniversary of RILA's Startup Network, an initiative of the Retail Innovation Center (RIC), created to foster a deeper connection between startups and retail senior executives. The Startup Network is comprised of enterprise technologies focused on meeting retail needs with an emphasis on asset protection, compliance, payments, supply chain, sustainability, and workforce.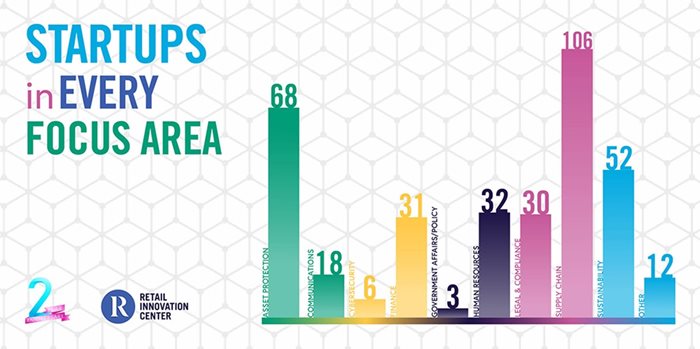 Our goal is to create a representative swath of the up-and-coming retail technologies that we believe our members should be aware of. For inclusion in this Network a startup must have been founded within the last seven years, have not exceeded $30 million in funding, and have not generated $50 million in annual revenue. Startups should be in the early to growth stages of their development with the ability to scale to meet leading retailer's needs. Over the last two years, 34 companies have graduated from the program.

To date, the RIC's Startup Network includes nearly 200 startup companies that are addressing various challenges that our retailers face from the last mile within a supply chain to training employees, to reducing emissions or setting up contactless payments and everything in between. We hope you join us in supporting a few of these startups in action on next week's Startup Network Pitch Showcase being held on June 24th at noon ET. Check out the preview below:

Enriching Associate-Customer Interactions
Practis can take your customer-facing teams to the next level by utilizing their automated role-play and learning science technology to train smarter and more efficiently. This platform gives your associates a more engaging way to hone their skills and feel more prepared to meet customer needs.
Streamline Returns Experience
Lillii helps retailers customize, modify and enhance their new, existing, or upgrades of their POS systems. Through the software platform, Freeing Returns™, Lillii is providing System Integration as a Service, starting with Store Returns Management.
Omnichannel AI Insights
Elevate's platform quickly provides the essential data and actionable insights needed to make better decisions streamlining your company's omnichannel operations, financial performance, warehouse operations, delivery, and contact center operations.
In a year that required swift adaptation and was shadowed by unknowns, RILA's Startup Network has remained steadfast. Our startups helped retailers address civil unrest by preparing retailers to protect their associates and storefronts last summer as protests gripped the nation. They also showcased how to adapt to changing workforce trends and appeal to varied employee needs while workplaces remained remote. Additionally, the annual Startup Innovation Awards program received over 60 submissions from startup technologies around the world answering today's most pressing asset protection and supply chain challenges, which you can read about
here
. Each finalist will also be pitching live and in-person at RILA's first major events since the COVID pandemic began: the collocated
Retail Asset Protection
and
LINK: The Retail Supply Chain
Conference taking place on August 17-20 in Orlando, FL.
To learn more about the network, I encourage you to browse RILA's
Startup Network portfolio
, which is updated regularly highlighting new members. You can also browse many Startup Pitches, webinars, and blogs at your leisure by visiting the RIC's
Insights on-Demand library
. And if you aren't already, sign up for our
Retail Innovation Center newsletter
and give us a
follow on LinkedIn
to get all the latest updates and insights.
If you are a startup or are connected with groundbreaking entrepreneurs, we encourage you to check out and share the
Startup Network
and
apply today
! For more information about the Startup Network or to get engaged with RILA's Retail Innovation Center more broadly, feel free to reach out to me directly at
katie.nicholos@rila.org
.
Tags
Technology & Innovation

Retail Innovation Center