The Waste Landscape & Solutions for Retail...
The Waste Landscape & Solutions for Retail Industry (2020)
Retail Trends
The Retail Compliance Center developed this report, Retail Trends: The Waste Landscape and Solutions for the Retail Industry to provide retailers with information to help them navigate the complex issue of solid waste as they work to find solutions all along their supply chain to reduce and eliminate waste.
Chapter 1:
Global Trends focuses on trends that are impacting waste and recycling in the U.S. such as China's new waste policies (i.e., National Sword), consumer trends in both shopping and in increased concerns about waste and U.S. policy trends. The report also touches on broad solutions such as the circular economy and Zero Waste initiatives.
Chapter 2:
The Shifting Landscape of Retail Waste and Recovery and Leading Retail Practices looks at the retail aspects of waste in more detail and discusses leading practices for commonly diverted material as well as some more difficult waste types.
This report was prepared by Resource Recycling Systems (RRS).
Additional Resources
The Retail Industry Leaders Association (RILA) and the Retail Compliance Center (RCC) have other resources and activities around this important issue. Retailers can get involved in the RILA Zero Waste Network for educational and benchmarking opportunities. For more information contact Kaela Martins. The RCC has resources around waste-related regulations and compliance including detailed fact sheets and matrices of variations in state requirements for areas such as consumer bags regulations.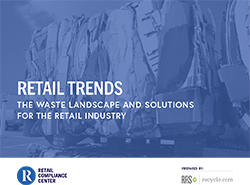 For a free copy of the report, please complete the form below.
The shift in consumer buying, with more consumers willing to pay extra for environmentally friendly products, reinforces the need for companies to increase their commitments to responsible business practices.
Jessica Long, Accenture