Retail Realities: Employee Expectations Have...
Retail Realities: Employee Expectations Have Changed (2023)
Retailers need new strategies to recruit and retain the next generation of talent.
Retailers are seeing a dramatic increase in union organizing attempts, particularly with younger workers who are demanding and expecting more from employers. Engagement and communication around shared values, and comprehensive policies that augment compensation are essential to any strategic approach to support the workforce. The turnover rate in retail has always been high, but leading retailers can meet the evolving needs of a modern retail workforce if they break the conventional mold.

IRI Consultants in partnership with RILA look at current labor law activity, opportunities to quell common retail jitters and how retailers can control their own destiny by focusing on well-being, community engagement and communication in the 2023 Labor Activity in Retail report.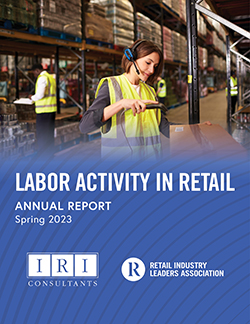 For a free copy of the report, please complete the form below.
Retail associates' perspectives and attitudes about work's place in their lives have changed. Employers are only rewarded with loyalty when they meet associate needs, including offering more control over their work environment. Employees want a voice in work hours and schedules, independence, and control over their work.
Devon Byrne | Ulta Beauty, Inc
Labor Law & Activity Insights from Workplace Experts
How To Quiet Five Common Retail and QSR Jitters – IRI Consultants
The retail and quick service restaurant (QSR) sectors are particularly vulnerable to union organizing in 2023 for reasons that include a workforce feeling like it was used during the pandemic with little regard for health and safety, younger workers who see employment as having a larger purpose than earning a paycheck, technology significantly changing consumer buying patterns, an uncertain 2023 economy, and recognition that independent organizing keeps control of the process in the hands of employees. Employers must recognize the mix of issues impacting the workforce and labor market to successfully recruit, retain, and engage workers and maintain a direct connection to employees in 2023.
Contemporary Approaches to Connecting With Younger Retail Workers – Ulta Beauty, Inc.
Younger millennials and Gen Z make up a large portion of today's retail workforce. The turnover rate in the retail industry has always been high, but it is worse today because of a change in associate attitudes and perspectives about employment. Younger workers have new perspectives about the purpose of work and employer responsibilities for health and safety and career development. To strengthen associate engagement, Ulta Beauty identified associate needs and responded accordingly by developing an effective communications system, a positive workplace culture, and benefits that match the needs of younger people, among other strategies.
Retailers Control Their Destiny With Workers by Focusing on Well-being, Community Engagement, and Communication – RILA
Today's retailers face a myriad of hurdles they must clear to succeed, including but not limited to external and societal influences, legal and regulatory changes, a labor-friendly administration, and a changing workforce. Add to those the ever-present factor of high turnover, keeping up with competitive wage and benefit structures, and caring for employees' mental and physical health, retailers find they need a comprehensive, strategic approach to their workforce needs. Here, we discuss the challenges, solutions, and ways in which the Retail Industry Leaders Association (RILA) continues to support this industry with knowledge, resources, and connections that help retailers succeed.
Addressing Workplace Violence Liabilities in Retail – Seyfarth Shaw LLP
In 2023, retail employers need a heightened awareness of the potential legal liabilities associated with theft, threats, assaults, protests, and mass shootings. This includes a need to address workplace violence, including under current and anticipated laws. Employers should evaluate practical considerations to develop and update their workplace violence policies to best protect employees, customers, and visitors. Doing so will help mitigate risks from common challenges, such as responding to customer/visitor threats, safety concerns from employees, and individuals using retail locations for shelter.
State and Local Legislators Are the 'Tail Wagging the Dog' When It Comes to Federal Employment Litigation Impacting Retailers – Cozen O'Connor
Bolstered and emboldened by more homogenous groups of elected officials in the political arenas of state and local government, lawmakers have proposed initiatives and begun implementing new laws that will require retailers to change the way they operate. In this article, we explore the trend of aggressive state and local legislatures implementing increasingly employee-friendly laws through an examination of three of the most impactful of such laws. For each, we dive into the respective growth patterns at the state and local levels, explore the impact on retailers, and discuss how federal legislatures are piggybacking on the momentum created by state and local policy makers.
Ultimately, to cultivate continued positive employee relations and provide a remedy to organized labor threats, retailers must be intentional, transparent, and communicative about efforts to keep workers and communities safe.
Evan Armstrong | RILA
Explore our workforce resources