Retailers Control Their Destiny with Workers
Focus on Well-being, Community Engagement, Communication
The following is a post pulled from IRI Consultant's 2023 Labor Activity in Retail Report, released in cooperation with RILA. Author Evan Armstrong is Vice President, Workforce at RILA and shares his insight below and in the full report, which can be downloaded here.

ABSTRACT
Today's retailers face a myriad of hurdles they must clear to succeed, including but not limited to external and societal influences, legal and regulatory changes, a labor-friendly administration, and a changing workforce. Add to those the ever-present factor of high turnover, keeping up with competitive wage and benefit structures, and caring for employees' mental and physical health, and retailers find they need a comprehensive, strategic approach to their workforce needs. Here, we discuss the challenges, solutions, and ways in which the Retail Industry Leaders Association (RILA) continues to support this industry with knowledge, resources, and connections that help retailers succeed.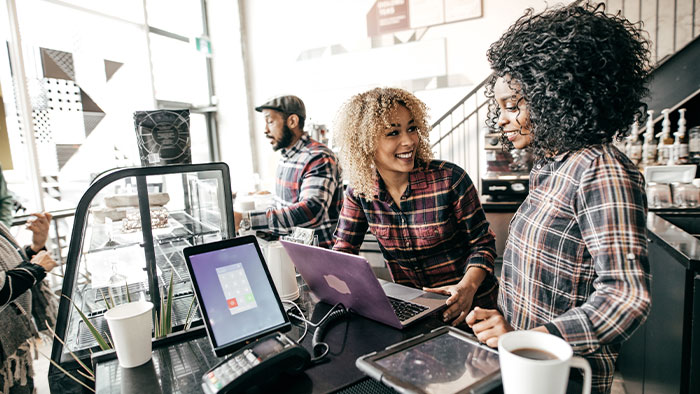 The Challenge
Over the last few years, the country has faced several challenges stemming largely from the impact of COVID-19: supply chain disruptions, inflation, and political turmoil to name just a few. While some of these challenges will dissipate in intensity with the pandemic in the rear-view mirror, employers face a workforce with needs and expectations that have permanently shifted. The result is a rapidly evolving talent marketplace marked by worker shortages and unionization risks. Unfortunately, the Biden-Harris administration is piling on additional challenges by trying to imprint a 1930s labor model that, ironically, employees no longer even want. If not thwarted, these policy changes will end any chance to build a modern, collaborative, and flexible 21st century workforce.

RILA has been at the forefront of working on behalf of leading retailers to overcome these challenges. In fact, retailers have been enormously successful combatting COVID and mitigating supply chain risks by implementing innovative operational changes to meet the needs of their employees and customers. However, the approach by President Biden and his regulatory allies in the Department of Labor (DOL) and the National Labor Relations Board (NLRB) are threatening to make retail operations more difficult by elevating the interests of organized labor over all other stakeholders, including workers, employers, and the broader U.S. economy.(1)

The risks associated with this whole-of-government approach include decreased worker rights in the organizing process, weakening of privacy protections, and economic disruption through strikes(2), boycotts, and other aggressive union activities that are unpopular and dangerous. Over 70 years ago when Congress passed the Taft-Hartley Act, lawmakers rightly prohibited certain kinds of intimidation campaigns involving union "threats," "coercion," and "restraints" against businesses. The Protecting the Right to Organize Act (PRO Act) would reinstate these harmful tactics, negatively impacting employees, customers, and the local and national economy. Most Americans would be appalled at an administration and Congress that allows these types of anti-workplace antics to be reinstituted in today's workforce that were outlawed in the early 20th century.

While the PRO Act faces significant legislative opposition, the Biden-Harris administration is marching forward on regulatory policy changes designed to mimic what they are currently unable to pass through Congress. These executive actions will likely receive significant pushback from policymakers, advocacy organizations, and the courts, and RILA will be actively engaged in all these efforts on behalf of our members. However, retailers will continue to have to adapt and implement proactive strategies to ensure their organizations are insulated from any dramatic policy shifts, staying ahead of the administration as well as union organizers' attempts to undermine worker rights and re-orient workforce relationships.

Recent research suggests that health and safety are key drivers of worker concerns.(3) This is not a surprise as we have all lived through a devastating pandemic that began in 2020.(4) More specifically, Gen-Z workers are registering as the most stressed and are seeking security and stability at work.(5) These changes are unlikely to recede with the pandemic, and as younger workers grow their share of the total workforce, we can expect these views and expectations to calcify.

Labor unions are exploiting these concerns in organizing efforts, promoting union membership as the tonic to whatever issues may be of concern for a worker. No longer simply focused on wages and benefits, today's union organizers openly seek to exploit social justice issues, local crime, and other community challenges as rationale for an organizing campaign. Leading retailers are at the forefront and seeking solutions on many of these challenging societal issues, but opportunistic labor organizers and activists will continue to pursue workers and try to persuade them that a one-size-fits-all union campaign is the answer to these challenges.
Meeting Needs for Safety, Security, and Well-being
In recent years, retail workers have faced personal security challenges stemming from customers' violent responses to masking policies during COVID and organized and aggressive criminal rings targeting stores for mass theft.(6) These challenges have eroded the sense of health and well-being of retail workers and make recruitment and retention even more difficult.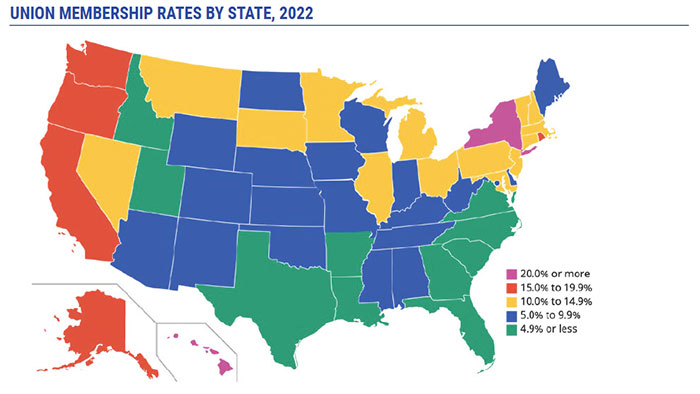 Fortunately, leading retailers are meeting the moment to ensure their workers feel secure at work. RILA, along with its members, has advocated for better organized crime prevention policies at all levels of government.

Recently, the U.S. Congress passed the INFORM Consumers Act(7), which establishes transparency and accountability for online marketplaces and third-party sellers, making it more difficult for con artists and criminal enterprises to hide behind fake screennames to sell stolen products, reducing the occurrence of ORC. In addition, retailers are working with local and state governments to create task forces and increase budget allocations to coordinate the prosecution of organized retail crime rings.(8) It is paramount that federal, state, and local law enforcement work with retailers to continue these efforts to mitigate the risks of violence and criminality in their stores and the communities they serve.

In addition to these prevention methods, employees are seeking better tools to deal with stress and trauma. Demand for mental health services has risen dramatically in recent years across every sector in the economy, including retail.(9) Specifically, Best Buy Chief Executive Officer and RILA Board of Directors Chair Corie Barry, recently emphasized mental health for employees by saying, "My personal point of view is there is still a backdrop of mental health issues, anxiety, and a need to leverage resources. And we actually see it. We offer a really large array of benefits that are geared toward help around mental wellness, and the usage of those benefits is as high as we've ever seen."

Again, employers are offering their workers options to meet their need for security, safety, and well-being at work, and despite this, organized labor continues to drive a wedge between employees and retailers. As employers make strides in these areas, the challenges of leading retailers do not stop at their workforce.
Community Engagement
Homelessness, drug use, and crime have been consistent concerns throughout the country, particularly in major metropolitan areas. These issues put the entire community at risk, including our workers and customers. These disturbing societal trends put major retailers in a difficult position of taking on challenges that are traditionally relegated to elected officials and public services. Whereas organized retail crime is squarely within the retail operational purview, homelessness, and surrounding crime, sometimes violent, is beyond the traditional scope of the retail business model. These societal challenges are having an impact on employee morale.

While labor organizers have no qualms exploiting societal challenges, retailers are often caught between a rock and a hard place. Locking restrooms, for example, has drawn the ire of local activists and, at times, created tensions between employees and would-be customers. However, unlocking restrooms has also created problems for employees, particularly when the facilities are used for drug use or other criminal activity.

As issues around health, safety, and security continue to percolate, RILA and its members are looking at innovative approaches to tackle community issues to ultimately create a better environment for all retail stakeholders – especially employees.

Conversations about the open bathroom policies are on-going, but Starbucks has committed to bringing social workers to certain cafes to assist at-risk individuals. And other retailers such as CVS, Walgreens, and Dollar General are building out similar capabilities to bring vital services to their communities. All these efforts will be needed to ensure retail operations, workers, and consumers can be safe and secure—but it also demonstrates the lengths retailers are going to be a force for good in the community. Ultimately, to cultivate continued positive employee relations and provide a remedy to organized labor threats, retailers must be intentional, transparent, and communicative about efforts to keep workers and communities safe.
Communication
In politics, candidates spend vast sums of money to define themselves before they are defined by an opponent. Former President Obama successfully won reelection in part because of his campaign's vigorous effort to cast challenger, now Senator Mitt Romney, as an out-of-touch, wealthy industrialist from the gilded age. It worked. Voters believed they knew Romney before he could convince them otherwise.(10) In corporate America, in the battle for the hearts and minds of its workforce, the same principle applies. Corporations must tell their story or activists and union organizers will sell an alternative story in an attempt to unionize a store or warehouse.

Many employers and leading retailers probably believe they are doing this work. But, to use another political adage, if you are explaining, you are losing. Communication campaigns, both internally and externally, must be consistent and ubiquitous to ensure the message lands effectively with the targeted audiences. As IRI has noted in previous reports, "When employees do not internalize the values, they do not develop a direct connection to the workplace. It is one reason so many retail employees are willing to take their grievances public, join the Resignation Nation, or start a union organizing campaign. The employees are not worried about consequences because they lack a connection to the workplace."(11)

One area where employees are demanding more accountability from organizations is that of Environmental, Sustainability, and Governance (ESG) metrics. Generally, these metrics are an attempt to showcase efforts by organizations to develop strategies around climate change, diversity and inclusion, and employee investments. Outside investors, employee resource groups, and governments are continuing to mount pressure on companies. Some see this as a risk – especially as organized labor again drafts behind these issues to divide employees from employers. However, proactive retailers can and should "flip the script" and utilize the ESG movement in their favor.(12)

Companies should be intentional and transparent about their efforts in these spaces and communicate their efforts effectively. It is not enough to have an ESG or Corporate Social Responsibility (CSR) strategy – an organization's commitment should be embedded throughout their corporate marketing, internal communications, and government reporting.

As employees, especially younger workers, crave stability and security in their lives, hearing from employers about their efforts to mitigate risks around climate change, as well as social and political disharmony, ranks as increasingly important.(13) In an Amnesty International survey of over 10,000 participants aged 18-25 across 22 countries, 40 percent ranked climate change as the most important issue facing our world today. The issue that ranked second: pollution, with 36 percent of participants voting for it.

Leaning in on ESG could ultimately be the best preventative measure against a lurking labor organizing effort. Jackson Lewis attorney Laura Pierson Scheinberg notes that, "engaging employees in 'ESG' activities might make them less likely to unionize, or at least give companies positive items to talk about in a union avoidance campaign. Messaging on topics like ESG can help companies argue, in the case of a union campaign, that 'we have all these programs in place, we are doing all these things that the union is claiming [we] aren't.'"

Unfortunately, the NLRB and its general counsel, Jennifer Abruzzo, are looking to muzzle employers from talking with employees. General Counsel Abruzzo believes most, if not all, employer attempts to discuss issues about organizing are inherently coercive.(14) The legal dubiousness of this position is obvious when the National Labor Relations Act explicitly gives employers the right to "[t]he expressing of any views, argument, or opinion, or the dissemination thereof, whether in written, printed, graphic, or visual form, [which] shall not constitute or be evidence of an unfair labor practice under any of the provisions of this Act, if such expression contains no threat of reprisal or force or promise of benefit." 29 USC § 158(c). The NLRB's unfortunate position is at odds with workers. In fact, the vast majority of employees want to hear from employers about their work, the direction of the company, and the impact of unionization.(15) This should reinforce employers' intentions to be active and intentional in their communications to employees. Companies must communicate directly with their employees, whether it is in emails, social media, or in-person meetings. If they don't, they risk being defined by their opponent in the hearts and minds of their workers.
Conclusion
Retailers constantly look at threats and opportunities for their organizations. The known threat of an aggressive administration focused on shifting workforce policies in favor of organized labor is well established. Employers must seize the opportunity to continue to invest in and engage with their workforces. Ensuring employee health and well-being, strong community engagement, and effective communications are all areas under the control of the retailer. And, when done well, proactive policies and communications will offer ample protection against undue outside influences seeking to drive a wedge between employers and their workforce.
https://www.rila.org/blog/2023/01/workforce-policy-trends-to-watch-in-2023

https://www.axios.com/2023/02/22/major-worker-strikes-increased-nearly-50-last-year-as-union-popularity-grew

https://www.retaildive.com/spons/psychological-safety-is-key-to-retail-employee-retention/625834/

https://justcapital.com/news/corporate-america-the-public-expects-you-to-prioritize-the-health-safety-of-your-workers/

https://www.forbes.com/sites/michaelstone/2021/05/18/gen-z-they-crave-stability-and-trust-so-give-it-to-them/?sh=b3619a9594af

https://www.businessinsider.com/organized-retail-crime-theft-walmart-target-2022-12

https://www.rila.org/focus-areas/public-policy/retailers-celebrate-signage-of-inform-consumers-ac

https://www.rila.org/retail-works-for-all-of-us/ensuring-a-safe-sustainable-future/organized-retail-crime-counterfeits-marketplaces

https://theharrispoll.com/briefs/workplace-mental-health-awareness-week/

https://www.levernews.com/fear-and-loathing-among-the-union-busters/

https://thepavlovictoday.com/gen-z-is-terrified-of-the-future/

https://www.rila.org/blog/2022/06/american-workers-deserve-better-from-nlrb

https://i4aw.org/resources/polling-results-for-employer-meetings-on-unionization/
Tags
Investing in People

Workforce