Labor Activity in Retail (2022)
Labor Activity in Retail (2022)
Annual Report: Spring 2022
The retail sector continues to face incredible challenges as supply chain issues worsen, and many employees have chosen not to return to work or have left the workforce altogether.
This comes at a time when leaders at the National Labor Relations Board (NLRB) and the White House seem determined to make an incredible shift to pro-union policies that harm the retail industry.

The second annual RILA/IRI Labor Activity in Retail report provides members with insights and thought leadership to assist in navigating today's evolving labor landscape. Designed to inform and target retail and supply chain activity in an efficient and consumable manner, this year's report is a timely prompt to assess and modernize your approach to positive employee relations.
In the report, you'll find:
Union membership statistics
NLRB update
National and state summaries in retail
Strikes in retail
4 new robust retail-focused articles to help you strategize around these findings
PLUS a wealth of data, maps, and insight to help guide your positive employee relations strategy.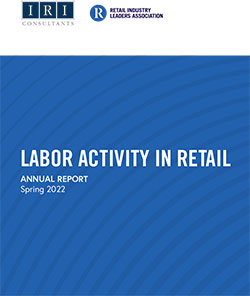 For a free copy of the "2022 Labor Activity in Retail," please complete the form.
"The lack of available workers, and a union-friendly Administration, has given new life to labor movements to flex their muscles. In this report, IRI provides a valuable resource to retailers who must rethink and implement new strategies that meet the changing needs of their workers in the face of an evolving labor relations landscape."
RILA Vice President of Workforce Evan Armstrong