Retail Supply Chain Watch: West Coast Ports
Retailers remain concerned about the ongoing disruption, slowdowns, and uncertainty at the U.S. West Coast ports – and their impact on retail supply chains. With varying reports about the state of operations on a day-to-day basis, the situation at key commerce gateways remains fluid and unpredictable as we approach the one-year mark of operating without a labor contract in place. Retailers are watching closely, as back-to-school and even holiday merchandise is making its way to the U.S.



The latest (as of 6/12/2023):
Goodwill seemingly continues to decline between the Pacific Maritime Association (PMA) and the International Longshore & Warehouse Union (ILWU), who continue to trade press statements this week.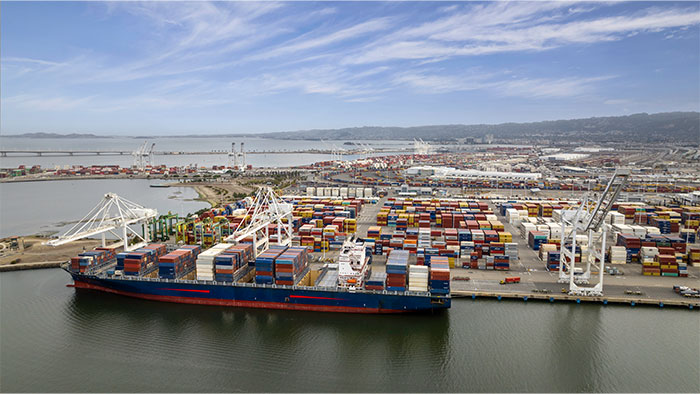 This afternoon, the PMA issued another statement, charging that the ILWU continues to withhold labor and cause slowdowns at the ports of Los Angeles, Long Beach, and Oakland in addition to the challenges at Seattle and Tacoma:

"The Union's actions have included delaying the daily standard dispatch process; withholding specialized workers, such as cargo-handling equipment operators or lashers; making unfounded health and safety claims; deliberately conducting inspections that are not routine, not scheduled, and done in a way that disrupt terminal operations; and improperly coordinating lunch and unit breaks to drain all labor from terminals at the same time."

Today's was the latest in an ongoing volley of press statements—signifying that the earlier media blackout around negotiations is evidently no longer in effect. PMA's statement on Friday June 9 highlighted the previous weeks' disruptions regarding specific workers called "lashers" in LA and Long Beach, and that operations had "generally improved" in LA, Long Beach and Oakland, while also noting the continued labor actions in the Pacific Northwest. The following day, PMA issued a statement charging that the ILWU had refused to supply labor for the Port of Seattle, effectively shutting down the port. The ILWU responded with a statement yesterday that PMA was spreading misinformation, and "West Coast ports are open as [ILWU labor] continues to work under our expired collective bargaining agreement."

Negotiators are scheduled to continue meeting this week, however the parties reportedly remain far apart on final issues, namely wages. The ILWU had been seeking a wage increase of $7.50 per hour for each year of the tentative 6-year contract, amounting to close to 100% over the contract's length. Additionally, in past negotiations it's been customary for any agreed-upon wage increases to be retroactive to the expiration date of the previous contract. Seemingly to underscore a sense of urgency, PMA has reportedly given a deadline of July 1 (the one-year anniversary of the previous contract's expiration), beyond which they would not plan to include retroactive wage increases. The wage issue is particularly contentious against a backdrop of the industry's current financial performance. Based on Q1 results, container shipping industry profits are down 78% ($45.7 billion) over last year, with at least one carrier even reporting a Q1 loss. It is unclear to what extent the past weekend's activities will influence the negotiators' schedule.

Sen. Cassidy Pens Letter to Acting Sec. Su
Following repeated requests by RILA and other industry stakeholders for the Biden administration to help expedite negotiations, Senator Bill Cassidy (R-LA), ranking member of the Senate Health, Education, Labor, and Pensions (HELP) Committee, today sent a letter to Acting Secretary of Labor Julie Su, pointedly asking her to outline how she intends to facilitate a final agreement between the ILWU and PMA. The letter also challenges statements made during her appearance at a hearing last Wednesday of the U.S. House Committee on Education & Workforce, where she said the administration intended to "support the parties as they work through their issues." However, her response was requested by June 26—stakeholders hope for negotiations to resolve sooner than that.

RILA continues to track the fluid situation on the West Coast and is in touch with port stakeholders as well as lawmakers and Biden administration officials on a daily basis. Please reach out to Vice President, Supply Chain Jessica Dankert with any questions or comments.
Tags
Supply Chain

Supporting Free Markets and Fostering Innovation

Workforce