West Coast Ports: What's Happening & Why Retailers Care
Late last week, operations at America's top seaport complex ground to a halt. Cranes sat idle, containers full of merchandise remained stacked in yards, and trucks full of produce were turned away at the gates.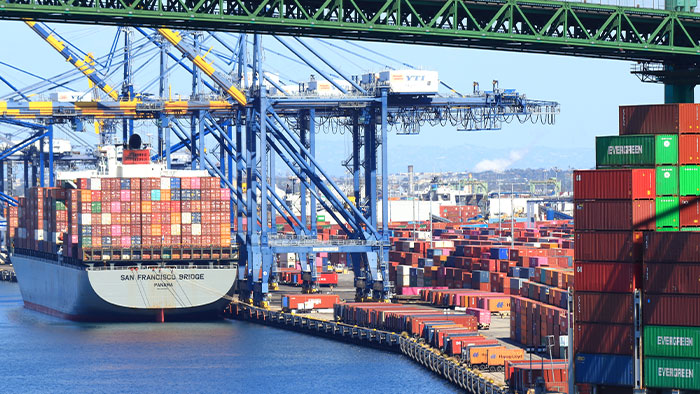 On Thursday, the local chapter of the International Longshore and Warehouse Union (ILWU) at the ports of Los Angeles and Long Beach withheld labor for the second (evening) shift, and again for the first shift Friday morning. Without workers, this vital link in U.S. supply chains effectively shut down. The incident was the latest flare-up in the ongoing contract negotiations between the ILWU and the Pacific Maritime Association (PMA). The negotiations have been underway for close to 11 months, with an expired contract for over eight months.

Today, the PMA issued another statement highlighting continued disruption this week, pointing to a slowed labor dispatch process that is delaying operations and "has forced crucial cargo handling equipment to be taken out of operation at several key terminals." This also takes place amid an ongoing dispute over lunch and staggered breaks, which has also affected operations at LA/LB terminals.

For retailers, it's a sign of more supply chain uncertainty that will impact consumers. Even a short period of disruption can have a ripple effect throughout the supply chain that can be felt for weeks. For anyone with operations reliant on these ports this means delayed shipments, extra costs, and an enormous use of time and resources to mitigate the impact.

In a statement, the PMA called last week's stoppage "a concerted action to withhold labor" by the ILWU Local 13. The local union countered with a statement claiming the labor shortage was due to a membership meeting and members choosing to observe religious holidays. Although reports highlighted this hasn't happened in the past. Whatever the case, the effect was a forced closure of terminals in the Los Angeles/Long Beach port complex, and a hold on all vessel, decking, and yard operations, halting service to the trucking community. Trucks already inside the port to pick up containers were escorted out by security.

These disruptions highlight the exposure of operating without a contract in place to manage grievances. RILA members urge an immediate agreement between the PMA and ILWU, and absent that, engagement by the Biden administration to ensure our vital West Coast ports remain open for business.

Currently, the operations at the ports of Los Angeles and Long Beach have returned to mostly "normal." However, the possibility of future disruption will remain until a contract between the PMA and ILWU is secured. Port of Los Angeles Executive Director Gene Seroka said this week "there are no contingency plans" for a more extended shutdown, should it ever happen. As cargo volumes begin to increase heading into summer and peak shipping season, the potential for disruption becomes ever more amplified. An agreement now is essential for the reliability of American supply chains.

RILA continues to monitor the situation and engage with key parties, including lawmakers and Biden administration officials. For more information, please contact RILA Vice President of Supply Chain Jessica Dankert or Director of Supply Chain Policy Sarah Gilmore.