Leading Retail Insights: The 2021 Consumer...
The world around us is changing again. More than a year ago, the COVID-19 pandemic changed everything for consumers—and retail. We've seen American families shift their shopping to fulfill their immediate needs to live, cook, learn, exercise, and work from home.

Now with vaccinations accelerating, and restrictions decreasing, consumer spending habits are shifting again. Discover how retailers are repositioning themselves to thrive as American consumers shift priorities.
Watch the Virtual Presentation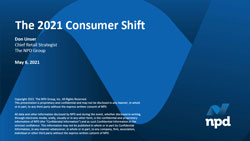 For a free copy of "The 2021 Consumer Shift" presentation, please complete the form below.
Don Unser
Chief Retail Strategist
The NPD Group
Javi Quiñones
President and Chief Sustainability Officer
IKEA US
Stephen Smith
President and CEO
L.L.Bean
Thank you to our Thought Leader
The NPD Group
As consumer tastes change and the retail landscape evolves, new business opportunities and threats abound. The NPD Group offers data, industry expertise, and prescriptive analytics to help our clients grow their businesses in a changing world.

The world's leading companies rely on us to help them measure, predict, and improve performance across all channels. They trust us to benchmark performance, guide strategic decision-making, and improve pricing, product management, new product innovation, customer segmentation, assortment, and sales forecasts.
Microsoft Corporation
Microsoft is the leading platform and productivity company for the mobile-first, cloud-first world, and its mission is to empower every person and every organization on the planet to achieve more.